Last weekend, I photographed Sara and Vince's Avalon Yacht Club Wedding in Avalon, NJ! Sara and Vince had a traditional ceremony at St Paul's Church in Stone Harbor followed by a classic wedding reception at Avalon Yacht Club, their color palette was filled with neutrals and Sara says that having a wedding down the shore already has so many perfect backdrops that they really wanted simple, classic and elegant for all their other details.
Sara and Vince met at Barnaby's Havertown (a very Delco beginning!) when they were both out with mutual friends. One of Sara's best friends was dating one of his friends, so it was a very easy and natural start. Sara and Vince actually had to reschedule their first date multiple times due to snow storms in the winter of 2018, but when they were finally able to have their first date, they went to Iron Hill Brewery in Media, PA.
Both Sara and Vince felt like their weekends down the shore early on in their relationship solidified that they had each found the one. They both love the shore and being able to spend quality time together with just the two of them, and then being able to also spend time with each other's family and friends showed them that they grew up with the same values and enjoyed the same things. They balance each other out and they laugh a lot and have the same sense of humor, which was something that was really important to each of them in a partner.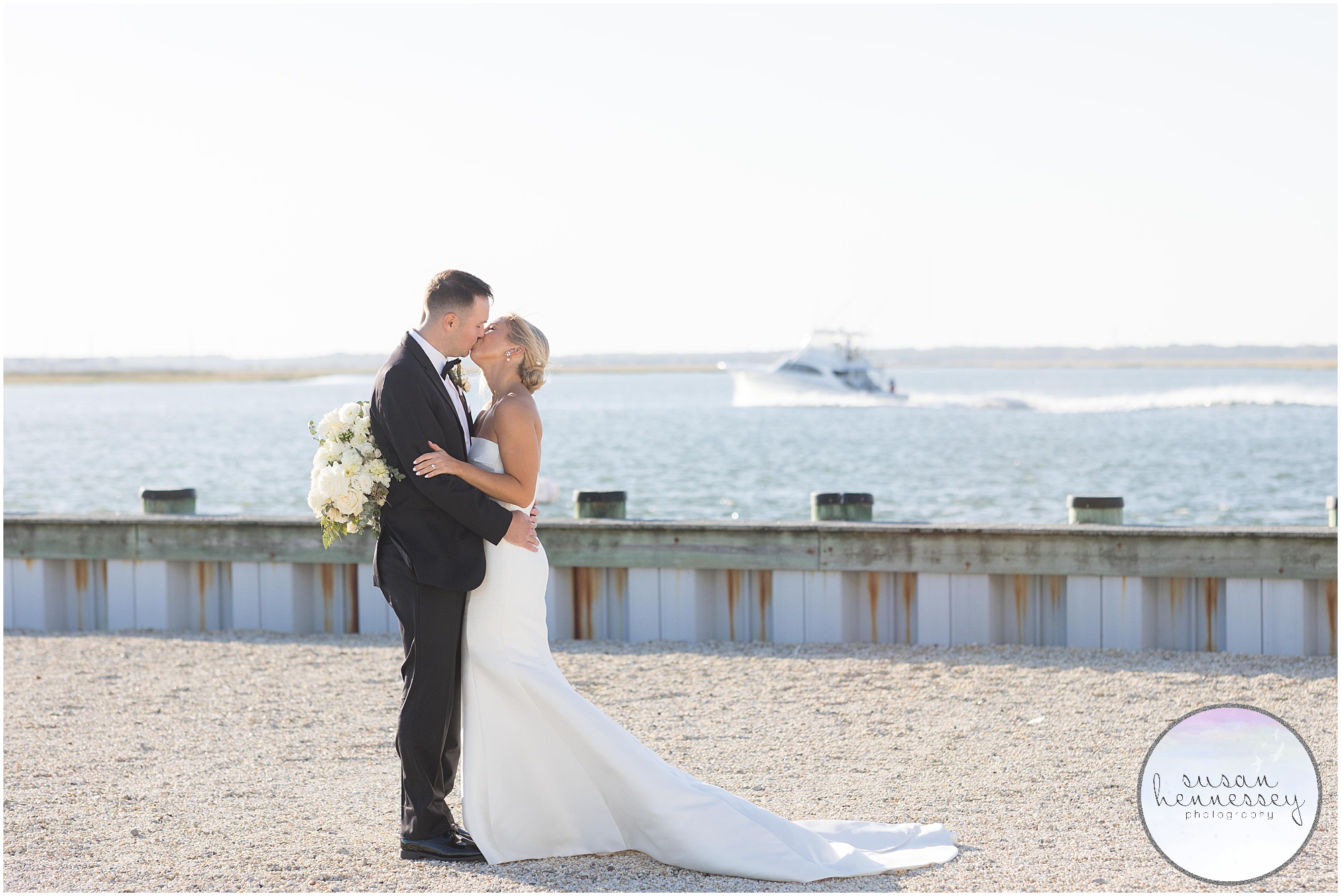 Engaged 4/24/21, the proposal: "Vince had the proposal planned for months, and Sara had literally no idea. Vince asked Sara's parents permission when Sara was away at a bachelorette party. Vince then went ring shopping with Sara's sister, and Sara still had NO idea. Vince had planned to go down the shore a weekend in April just to relax and get away. Sara thought it was just a regular weekend and was ready to sit on the deck with a plate of pizza when she saw champagne waiting. Sara STILL did not put it all together until she turned around and Vince was on one knee on the deck in Sea Isle. Sara screamed "ARE YOU SERIOUS?!?!" about 10 times and then of course said yes. Vince had planned an engagement party for the following day at home in Pennsylvania for all of their family and friends."
Now that Sara and Vince have finished planning their Avalon Yacht Club wedding, they are so excited to spend the rest of their lives together. They look forward to having kids and growing their family and spending many more summers down the shore with their future kids and dogs. Their advice for couple's currently planning is to enjoy the ride! As stressful as it could be at times (ie: the seating chart) they really did enjoy making decisions together and talking about the vibe for their whole day. They say to listen to each other throughout the process and enjoy, and open up a bottle of wine for the stressful moments! Sara and Vince were most looking forward to celebrating with their family and friends. They couldn't wait to see all of their visions for the day to come to life, but really they were so excited to spend time with each other and celebrate with their favorite people in one room to celebrate their marriage – they can't think of anything better than that!
Sara and Vince are off to Aruba for their honeymoon, thank you for choosing me to photograph your Avalon Yacht Club wedding!
Contributing Vendors:
Venue: Avalon Yacht Club
Church: St. Paul's Church, Stone Harbor, NJ
Bridesmaid Dresses: BHLDN
Invites: Zola
Cake: Created by Groom's sister in law
Band: EBE Talent – Barcelona Band
Are you looking for a photographer for your Avalon Yacht Club wedding? Click here to see all the gorgeous Jersey Shore weddings I have photographed! Ready for more info? Click here to fill out my contact form.