Earlier this Summer, I photographed Jenna and Ach's Philadelphia Engagement Photography Session at the Merchant Exchange Building and on the river in Camden, New Jersey. Jenna and Ach are high school sweethearts! They first met during the first couple years of high school, but didn't get to really know each other until ceramics class her junior and his senior year. He sat next to her and was a huge flirt! It took a few months until she decided to go out with him but looking back on it, it was the best decision she ever made. Their first date was Valentines Day 2008 and they went to the movies to see Fools Gold. Jenna remembers it like it was yesterday, Ach was late and he showed up in an old gold mini van, which thankfully was not his car. When she got into the minivan, there was a rose on the seat for her! He explained why he had the minivan and he was so embarrassed to be picking her up in it! Jenna and Ach have now been together for over 10 years, so it's hard to recall exactly when she knew that he was the one. But it feels like he was never not the one, she has wanted to marry him from the beginning when they began dating as teenagers and went through so many life stages together, it was not always easy but they truly believe it made them a stronger couple.
Engaged on 7/30/17, the proposal from Jenna: "We were in Malta on vacation and we decided to go to this nice restaurant with a beautiful view for drinks. According to Ach the night didn't go as planned because he wanted everything to go down during sunset and hoped for less people. After a few drinks he bought a bottle of champagne and we walked down by these rocks by the Mediterranean Sea and there were fireworks going off he started saying romantic things to me and then got down on one knee. I never knew what ugly crying was until that day!"
Jenna and Ach are planning a beautiful outdoor tented wedding at Fairmount Water Works next July! Their wedding day will be very romantic with lots of pink and gold tones and with tons of flowers and of candles. When these two are not planning their gorgeous Philadelphia wedding, they love to travel to new countries and places. They like going to concerts, the beach, and nice restaurants.
Once married, their dream is for to have a big family, Jenna wants 5 kids and Ach wants 3 so they may have to meet in the middle at 4! They also hope to continue traveling.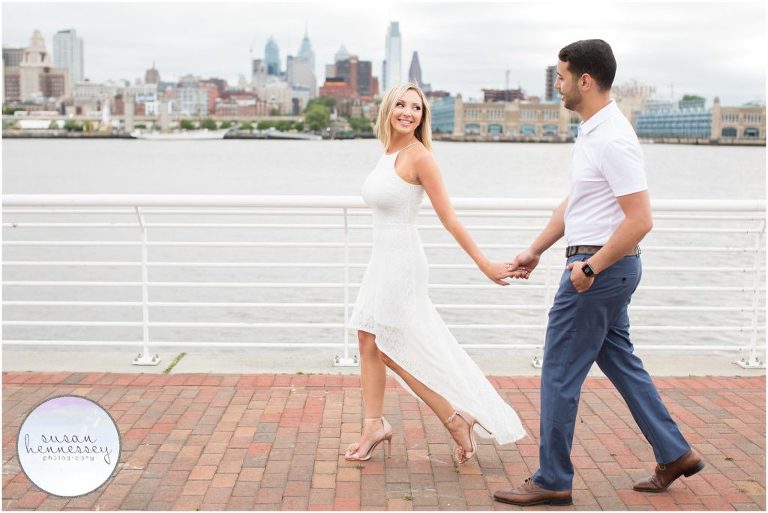 Any advice for future bride's planning?
Enjoy every second of it, you are most likely only going do this once so don't rush it and enjoy this time, try not to let it be stressful! I also found it helpful to only include my fiancé in the wedding planning/details when it's necessary. This way I get my way and he doesn't complain 🙂
And finally, what are you most looking forward to about your wedding day?
I have been waiting for this day for the last ten years I can't believe it's finally coming true! I can't wait to watch Ach's face when I walk down the aisle! As well as just enjoy every second of the day; my dress, the venue, being with all my closest friends and family, and everything else that comes with the magical day!
Are you looking for Philadelphia Engagement Photography Session tips? Click here to read my guide filled with tips and if you're ready for more info, click here to fill out my contact form!