A few months ago, I photographed Chelsea and Scott's Sayen Gardens Engagement Session in Hamilton, NJ.
Chelsea and Scott met in a mutual friends dorm room one evening as they were heading to a college party their freshman year. As soon as Chelsea walked in the room, she thought Scott was so handsome and just knew there was something special about him. It wouldn't be until 6 years later that they finally reconnected via social media. For their first date, they met up in New York City for the weekend. Scott took her to his favorite Mexican restaurant, where they sat and talked for hours about everything. The date went on for what felt like minutes, however it was a night that Chelsea will never forget.
Engaged on 12/02/2017, the proposal from Chelsea: "Scott and I went into the city to see the tree for the holidays and to have dinner at our favorite restaurant. Before going to dinner, Scott had planned that we would go for a walk in Central Park. As we were walking, Scott got down on one knee and proposed to me in the park at sunset. We proceeded to call all of our family to share the wonderful news. We then continued to dinner and enjoyed a romantic evening together."
Chelsea and Scott are planning a romantic and elegant wedding at Scotland Run Golf Club this Fall. When they aren't wedding planning, they love to watch sports, especially football. A love of the NY Giants is something they bonded over immediately, and something they still enjoy watching together to this day. If they aren't at a Giants Game or a Temple football game with their friends and family you can probably find them watching any SciFi movie together or playing a round of golf. They enjoying spending time exploring new things, playing board games or cards, and especially lounging by their pool in the summertime.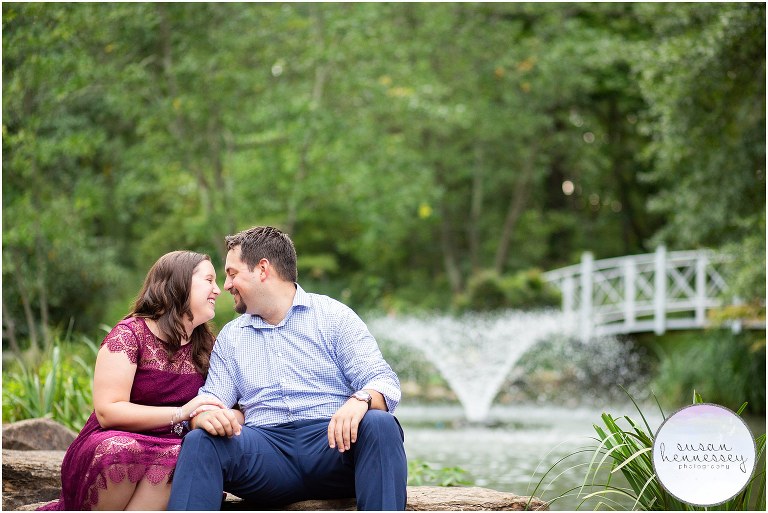 Once married, they are looking forward to a lifetime of happiness together as they travel to new places, start a family, and grow old together doing the things they love to do each and every day.
Any advice for future bride's planning?
Don't forget that it's supposed to be about you and your fiancé. No matter what anyone else says, as long as you two are happy, that's all that matters at the end of the day.
And finally, what are you most looking forward to about your wedding day?
To finally being his wife and being able to party with our close friends and family!
Are you planning a Sayen Gardens Engagement Session? Click here to view my engagement portfolio for more inspiration. And if you'd like more info, click here to fill out my contact form!